When you want to overview your drafts, scheduled or sent text messages you choose SMS in the main menu and will then get to the SMS overview.
Here you can edit an SMS draft, create a new SMS draft, send SMS´s and test-SMS, proceed to scheduled SMS and your sent SMS, and you can even export statistics from a sent SMS.
To edit an already created SMS you click on the draft name and the SMS editor will open.
To overview your scheduled or sent SMS you click on the buttons Scheduled or Sent.
From here you also can create a new SMS (you can also create a new SMS by clicking on Create in the main menu).
To export statistics of a sent SMS you can click Options (to the right) and then Export.
To add more columns to your default overview, you hit the Select columns button.


And you proceed with ticking the boxes of the columns you want to add: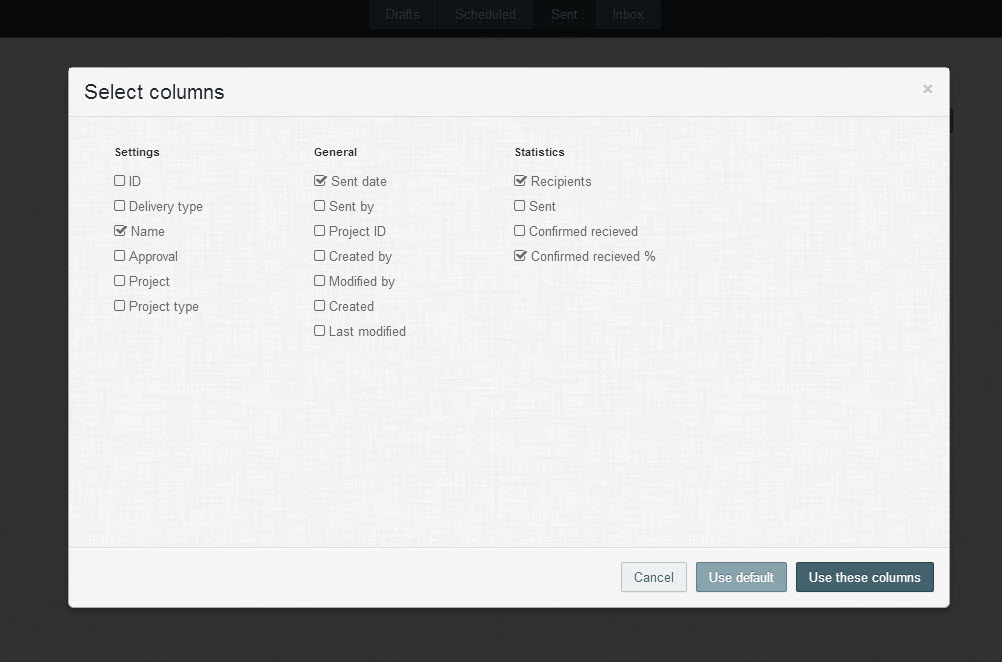 Please note – the default SMS price is 0,70 SEK/0,07€ per SMS* Please contact support if you wish a quote for a specific country.
*when a SMS message exceeds 160 characters it will be concatenated and each sms part will be billed as a separate sms.